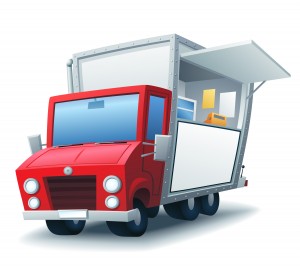 With over 500,000 mobile applications currently available to Android smart phone users, finding the optimal employee-tracking app for fleet management could seem like a nightmare challenge. You have options to consider, and GPS Commander is prepared to help you make the right choice.
Comparing the prices, benefits, and features for your fleet tracking needs amongst the slew of third-party solutions and system services offered online will save you time and money for the long-term.
Your fleet company is unique; your fleet tracking technology should fit your requirements.
Let's take the nightmare out of hunting for the best employee tracking apps, with a customer narrative that explains some of your options:
Temple Treats is a busy catering company equipped with four food trucks that circulate the city for booked events. Each truck makes between 6-10 stops a day. The owner has had issues with accountability and productivity. Between his twelve staff members, seven of them have been trained to drive the trucks. With each truck's hectic schedule, it's becoming difficult to dispatch jobs and count on the drivers to get from Event A to Event B on time.
He wants to be able to identify why his drivers are late to events, and figure out if some re-training or disciplinary action is needed.
He intends to equip the truck drivers with cellular phones that have tracking technology, in order to archive route histories, how long each truck was at each event, and whether traffic plays a part in being late for events. The owner wants to have a visual account of where every truck is at any given time, in order to easily dispatch jobs.
First, he checks out Xora GPS TimeTrack, a downloadable app for mobile devices with a secure cloud-hosted management console. The website says that with Xora GPS TimeTrack, "Organizations with employees in the field can see their exact locations in near real time, plan their schedules, gather data from the field, and simplify their payroll process."
The Pros
He can use any GPS-enabled mobile device to access the software.
It has some nice features: GPS-captured job dispatching, instant viewing into the status, assigned employee, and location of every job.
With the Xora console, installation is quick and easy.
The Con
At a $1 per day per user (and this is an estimate, without setup fees), it is a bit more expensive than what he was hoping to pay.
Assessment
He likes that he can use any GPS enabled mobile device for the service, and can access his management portal from any web browser. However, at a $1 a day per user (estimated), Xora pushes the owner's budget for employee tracking (around $120.00 a month for all four users). If he was prepared to spend $1.00 per day, he would opt for an installed GPS tracking black box, rather than track employee smartphones.
So he carries on. He finds TeleNav Track, a location based service that runs as an app on employee smart phones and is administered by a manger from a browser-based Web tool.
The Pros
The app is built on a SaaS model with no installation or IT infrastructure. Low-commitment.
He can view employee status and location from his smart phone.
He can schedule and reassign jobs based on truck location and availability, and push job information to the cell phone (or the cell phones of his other employees without the tracking software).
Promotes its service as "easy to use".
The Cons
Works with Sprint and AT&T, "among other carriers across the country," which means it might not work for him in Canada.
The website gives no indication of pricing, or subscription commitments. There are no media demonstrations of the service, so he'll have to get in contact with a rep to learn more.
Assessment
While some of the features are impressive, it is difficult for the Temple Treats owner to assess whether this service is available to him (he doesn't want to commit to Sprint or AT&T). He doesn't know how much it will cost to set up, and he's not prepared to go through the hassle of talking with a representative.
Next up, he checks out Telogis Progression, a "real-time job creation, tracking (including estimated time of arrival and completion), routing (including preplanned routes and dynamic changes throughout the day), dispatching, customer service notifications, route compliance reporting, job completion reporting, real-time traffic conditions and a rich interface to existing ERP systems." A mouthful of a description!
The Pros
He likes the real-time traffic monitoring and the pinpoint capabilities of the 'job clustering' function.
Immediate job feedback is also important to him, and Telogis offers it. The maps show colour-coded real-time updates of where my drivers are at any given time.
The Cons
He's unsure of whether this service is expensive or not, because there is no indication of pricing options anywhere. He'll have to get in touch with a rep to get a quote.
Telogis software has extensive setup, training, and hardware installation. The Temple Treats owner is looking for a potentially semi-permanent solution to some current accountability issues. He doesn't want to commit to some serious software setup.
Assessment
The benefits of the mobile tracking service are appealing, but he needs some idea of pricing and what he has to commit to. The service itself seems comprehensive and easy to use, but the process for establishing the system in his vehicles and mobile devices is vague.
He then discovers Scout PT, the mobile employee tracking solution from GPS Commander.
The Pros
Fleet managers can track their employees from their smart phones while out of the office.
He has immediate access to pricing on the GPS Commander website, without the need to get in contact with a rep. This is a huge advantage over the other mobile app options, especially as he is a small business owner with little idea of what to expect to pay for this service.
No contract commitments required. He can cancel at anytime -this reduces his risk
Longer-lasting battery life for his employee smart phones is a definite advantage. He has some employees that might want to use "my phone died" as an excuse while on the job. The added benefit of less than 15% batter life reduction in 24 hours is something that others have not made a priority.
He likes the efficiency of this product: a fast GPS first fix time of 9 seconds average, and accuracy up to 15 meters.
Assessment
The fleet owner is impressed that he has full access to instant pricing quotes for his specific needs. He discovered how affordable and low-commitment employee tracking software could be, and without needing to compromise quality. He likes that the app can be installed over the air, and that customer assistance is available 24-hours a day.
Equipped with the full line of GPS Commander tracking features, Scout PT will fit the owner's accountability and productivity needs. He's particularly interested in the customizable tracking reports that will allow him quick access to employee activity histories, and the Google Traffic option for real-time traffic tracking.
Conclusion
Scout PT for GPS Commander is the low-cost, low-commitment system service for professional employee tracking. You can assess the range of mobile solutions currently on the market to gauge what features will fit your business, but only GPS Commander can give you instant pricing information that will empower your decision.
The owner of Temple Treats went with GPS Commander for his mobile fleet tracking system. He is prepared to vastly improve fleet productivity and accountability.
Are you?