Life is full of mysteries, but the cost of GPS tracking shouldn't be one of them. So why do so many GPS tracking technology providers hide their prices, and insist prospective customers inquire by email or telephone? You just want to know how much it will cost to outfit your fleet with GPS tracking technology today. Without the hassle of a sales call, please.
At GPS Commander, we provide free Instant Quotations for people like you. This is a quick and convenient way to calculate monthly and startup GPS tracking costs with GPS Commander.
From the Build an Instant Quotation page on the GPS Commander website, you can create customized GPS tracking price quotes that are sent instantly to your email inbox. Instant Quotes give you the accurate pricing information you need to make the right decision for your fleet or mobile workforce.
Here are more reasons why you'll love using our Instant Quoting system:
-Customization for your specific tracking needs
To create a customized Instant Quote, select the tracking solution, device carrier, and number of units you need via our Build an Instant Quotation page: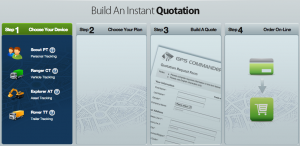 A customized instant quote instantly calculates the exact cost of your GPS tracking hardware and monthly subscription. With the precise numbers in front of you, an instant quote provides the perfect illustration of how quickly your fleet can expect a return on investment.
-Easy sharing via email or print format
GPS Commander Instant Quotes are sent to your email inbox in a PDF format, and are yours to download, print, and send to others via email.
Instant Quotes include comprehensive price breakdowns and detailed tracking descriptions, which are extremely valuable to have on hand when advocating for GPS tracking technology in your fleet company or mobile workforce. Stakeholders and colleagues will be impressed by the accurate budgeting calculations you have made based on actual GPS tracking prices. Learn more about how to convince upper management to get on board with GPS tracking technology here.
–Price comparing with zero pressure
Other GPS tracking companies provide pricing information only by telephone or email contact with a sales representative. When you're cost comparing, the last thing you want is pressure to buy. GPS Commander Instant Quotes eliminate the pushy middleman, while providing you with the price details you need to make an informed decision. No hassle, no pressure, and no meddling sales rep to deal with.
-Available to you 24/7
Get accurate GPS tracking pricing information when it's convenient for you, with an Instant Quote from GPS Commander. You have access to our Instant Quoting System from any device with an Internet connection, at any time. Don't wait around for an email response or a phone call back from a sales representative: get customized GPS tracking pricing right now.
-Ready for the next step
Once you're ready to purchase your GPS tracking plan, the Instant Quote becomes your order form. Here's how it works:
Simply click the "Place Order Now" button on your Instant Quote page. This directs you to our online checkout form, complete with your customized order details and contact information. Your order is processed immediately upon purchase, and an invoice is sent back for your records. We also ship most orders within 48 hours. How's that for fast and easy?
Have questions?
We'd love to hear from you. Call us at 1-866-936-1429 and we'll answer all your questions instantly. Need a demo –no problem! Need an installer? We'll make the arrangements!
There's no mystery to GPS tracking pricing with a customized Instant Quote from GPS Commander. Click here to satisfy your curiosity now!